What Are the Benefits of Tire Service and Replacement?
You can count on Basil VW as your one-stop-shop for all of your Volkswagen tire needs. When it comes to tire care, it's important to be on the lookout for some of the signs that you're due for a Volkswagen tire replacement. Driving on tires that have been damaged or excessively worn can pose several safety risks, such as increasing the chance of a blowout. By occasionally inspecting your tires for signs of balding, road damage, and excessive wear - whether on your own or by asking our auto service center - you can take a big step toward minimizing the risk of such an event. You should also be on the lookout for signs of uneven tread (excessive outer vs inner vs center tire wear, as well as "scalloped" and "feathered" tires), as this could indicate another problem with your vehicle that can be addressed by our Volkswagen service center. By paying attention to your tires and staying on top of your tire rotations, you can prevent problems from occurring in the first place, rather than addressing them once it's too late. It's also important that you choose the right tire for your driving lifestyle and driving conditions. For winter driving in New York, a good winter tire that utilizes soft, high-traction rubber is ideal for maximizing traction and stopping performance in snow and ice, while all-season tires are a better choice for those who only occasionally drive in inclement conditions. If you're looking to optimize your braking, cornering, and traction in warm-weather conditions, a pair of summer tires may be what you need. No matter who you are, a pair of new Volkswagen tires will take your driving experience to the next level, and we'd be happy to show you around our selection. To schedule a Volkswagen tire consultation, just give us a ring or visit us in person at our Volkswagen tire center in Lockport, NY. We hope to hear from you soon!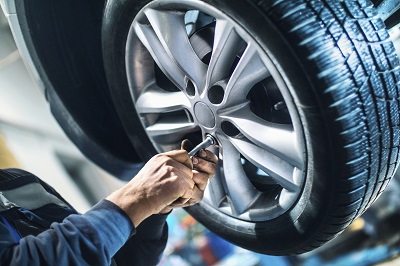 How to Schedule a Tire Service Appointment at Basil Volkswagen
Once you've found the Volkswagen tires that best suits your needs, you can count on the Basil VW Volkswagen tire center to keep them in tip-top shape for as long as possible. Whether you need Volkswagen tire repair, Volkswagen tire replacement, or just a quick tire alignment or tire pressure check, we've got you covered. When it comes to tire care, the old 'ounce of prevention adage' certainly rings true, and our certified tire center makes to easier than ever to stay on top of your tire service needs. To book a Volkswagen tire repair or another tire service, simply use our online scheduling tool, give us a ring, or visit us in person at our Lockport, NY Volkswagen tire center!
Volkswagen Service: 

716-625-4444

Volkswagen Parts: 

716-625-4444
Hours
Service Center
Mon-Thurs
7:00am - 9:00pm
Friday
7:00am - 6:00pm
Saturday
7:00am - 6:00pm
Sunday
9:00am - 4:00pm